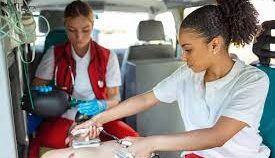 About Course
HeartSaver First Aid with CPR and AED
The Heartsaver First Aid with CPR and AED course is designed to meet the needs of individuals who may need to respond to a first aid or cardiac emergency. The course content includes general principles, medical and traumatic emergencies, adult, child and infant CPR, foreign body airway obstruction, and use of the Automated External Defibrillator (AED).
Heartsaver® First Aid
Heartsaver® First Aid is a video-based, instructor-led course that teaches students critical skills to respond to and manage an emergency in the first few minutes until emergency medical services (EMS) arrives. Students learn skills such as how to treat bleeding, sprains, broken bones, shock and other first aid emergencies. This course is for anyone with limited or no medical training who needs a course completion card in first aid to meet job, regulatory or other requirements.
Now an eLearning Course – Heartsaver Pediatric
First Aid and CPR
The Heartsaver Pediatric First Aid CPR AED course is designed to instruct individuals to respond to and manage illnesses and injuries in a child or infant in the first few minutes until professional help arrives. It covers the four steps of first aid and first aid skills such as finding the problem, stopping bleeding, bandaging and using an Epinephrine pen, as well as child CPR AED, infant CPR and optional modules in adult CPR AED, child mask, infant mask and asthma care. Only offered as an eLearning course.
eLearning First Aid
An eLearning Course provides a complete, flexible solution for first time or renewal training for healthcare and lay providers who need to keep their skills current. Students can complete training anywhere with internet connectivity and at their own pace. Program Cost: Varies, depending on class.