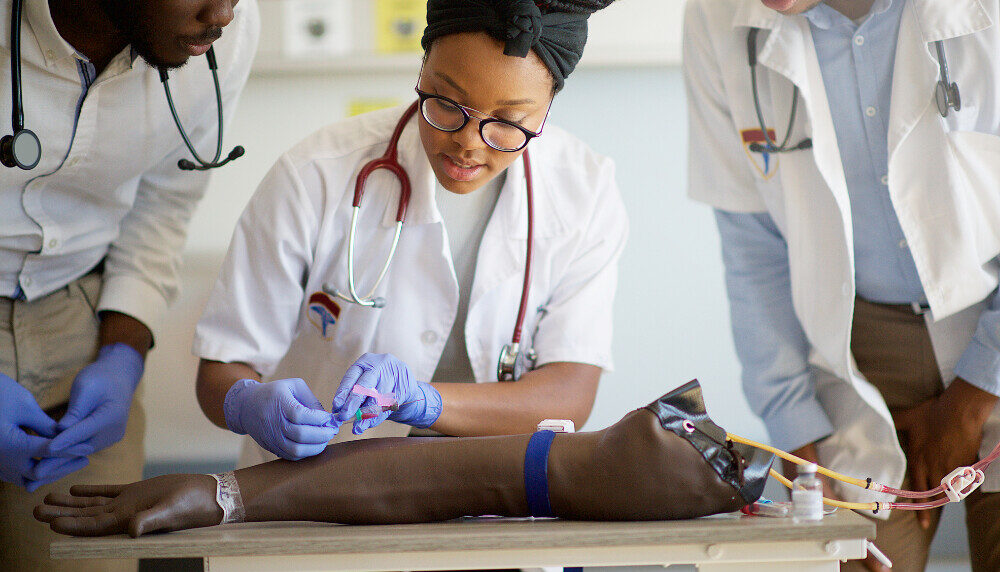 About Course
Phlebotomy
Phlebotomists are trained to draw blood from a patient for clinical or medical testing, transfusions, donations, or research. Phlebotomists collect blood primarily by performing a venipuncture, (or, for collection of minute quantities of blood, finger-sticks). Duties of a phlebotomist may include properly identifying the patient, interpreting the tests requested on the requisition, drawing blood into the correct tubes with the proper additives, accurately explaining the procedure to the patients, preparing patients accordingly, practicing the required forms of asepsis, practicing standard and universal precautions, performing the skin/vein puncture, withdrawing blood into containers or tubes, restoring hemostasis of the puncture site, instructing patients on post-puncture care, ordering tests per the doctor's requisition, affixing tubes with electronically printed labels, and delivering specimens to a laboratory.
Requirements:
Students must have a high school diploma or GED upon completion of the course.
Students need to have current physicals and a current PPD
What Will You Learn?
Phlebotomy Program

Prerequisite: High School Diploma or GED

Our program consists of 80 hours of training; 56 classroom hours and 24 hours training in hands-on practice in a skills lab. Students will be trained to perform a variety of blood collection methods using proper techniques and precautions including: vacuum collection devices, syringes, capillary skin puncture, butterfly needles and blood culture specimen collection on adults, children and infants. Through lecture and lab experiences, students will receive training in infection prevention, proper patient identification, proper labeling of specimens, and quality assurance. Students will be taught specimen handling, processing and accessioning. Upon successful completion of the program the student will qualify to sit for the National Healthcareer Association (NHA) Certified Phlebotomy Technician (CPT) exam.

NHA's certification exams are accredited through the National Commission for Certifying Agencies (NCCA)

We provide an optional externship (when available) at a contracted laboratory drawing facility to allow students to gain experiential learning.

Phlebotomist typically do the following:

Draw blood from patients and blood donors

Talk with patients and donors so they are less nervous about having their blood drawn

Verify a patient or donor's identity to ensure proper labeling

Label the drawn blood for testing or processing

Enter patient information into an onsite database

Assemble and maintain medical instruments such as needles, test tubes, and blood vials